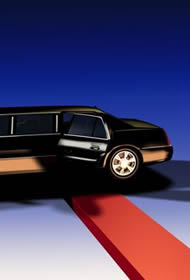 Are you having trouble deciding on a limo? Then check out our
guide to limousine types
to find what all of your choices are!
Welcome New Companies
Echo Transportation in Dallas, TX
Executive Limousine Services in Kelso, WA
Dignitary Transportation in West Palm Beach, FL
Affordable Luxury Transportation in Virginia Beach, va
International Airport Transportation in aurora, co
Nwi Limos in Lowell, IN
Elite Town Car Services in Houston, TX
Denver Party Ride in Denver, CO
Hamilton's Limo & Car Service in Madison, NJ
A-1 AAA Brian's Taxi & Limousine in Mount Laurel, NJ
Prime Limo Santa Rosa in Santa Rosa, CA
Elite Town Car Services in Houston, TX
Deluxe Limousine and Transportation Inc. in Los Angeles, Ca
roslyn limousine in roslyn,ny, ny
White Eagles Limo in Boca Raton, Fl
Limo Company Directory
Are you planning a special occasion, such as a night out on the town or a special dinner or party with someone that you care about? Having the right transportation can make a very large difference when it comes to creating the perfectly orchestrated evening. If you are serious about creating a special occasion and you want the transportation aspect of your evening to be perfect, then it would be wise to find a limo company in your area.

Contacting a limo company is easy enough, and typically customers can easily afford their very own limousine and driver for a set period of time. Most limo companies allow their fleet to be rented out on an hour by hour basis, meaning that your limousine will arrive where you need it and when you need it, and will be available to you for as long as you need before returning you home again.

If you are planning an anniversary, a birthday, a wedding or another special event and transportation is an important part of the planning process, consider contacting a limo company. There is no better way to travel to your destination than in style seated in the back of a gorgeous stretch limousine.
Welcome New Companies:



Hamilton Coastal Limo



own Car and Limousine Service focusing on Airport Ground Transportation, serving Charleston, Savannah, and Hilton Head area....



Ridgeland, SC
Latest Reviews:



D & L Limousine Inc in Grafton, WV
from Donna Revere
I have used this Company on many an occasion and they have always been on time, the chauffeurs are really nice and they have excellent driving skills....Details