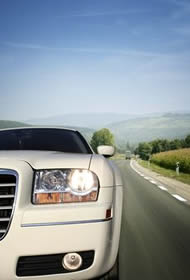 Are you having trouble deciding on a limo? Then check out our
guide to limousine types
to find what all of your choices are!
Welcome New Companies
Limos Of Cocoa Beach in Cocoa, FL
Atlanta Limousine Transportation in Atlanta, GA
Eddie Limo in Denver, co
Elite Limo in Boston, Ma
Miss limousine service llc in mcleansville, No
Bend Limousine in Bend, Or
Phantasy Transportation Inc. in Collegeville, pa
White Eagles Limo in Boca Raton, Fl
Big Town Limo in dallas, TX
Atlanta Limo Car Service in Atlanta, GA
AVON LIMOUSINE LLC in Stratford, CT
HMC Limo in Kennesaw, GA
Hamilton's Limo & Car Service in Madison, NJ
Twin Cities Car Service in Minneapolis, MN
Denvers Airport Transportation in Aurora, CO
Limo Company Directory
Are you planning a special occasion, such as a night out on the town or a special dinner or party with someone that you care about? Having the right transportation can make a very large difference when it comes to creating the perfectly orchestrated evening. If you are serious about creating a special occasion and you want the transportation aspect of your evening to be perfect, then it would be wise to find a limo company in your area.

Contacting a limo company is easy enough, and typically customers can easily afford their very own limousine and driver for a set period of time. Most limo companies allow their fleet to be rented out on an hour by hour basis, meaning that your limousine will arrive where you need it and when you need it, and will be available to you for as long as you need before returning you home again.

If you are planning an anniversary, a birthday, a wedding or another special event and transportation is an important part of the planning process, consider contacting a limo company. There is no better way to travel to your destination than in style seated in the back of a gorgeous stretch limousine.
Welcome New Companies:



Gary's Limousine Service,Inc.



Gary's limousine service offers the best in limousine transportation for Los Angeles, and all of Southern California. From Hummers to Escalades, Linco...



los angeles, ca
Latest Reviews:



Airport Transporter in Wallingford, CT
from beth c
We used this company's services in April 2011 for round-trip to the cruise docks in NYC. The owner / driver was excellent - courteous, on time, a ver...Details